The exchange rate diagram of United States Dollar to Israeli new shekel says it all that you need to know about the future of Israel economy under the current government. Netanyahu killed Israel shekel with his judicial overhaul madness. Israelis vote with your feet taking their savings and future elsewhere.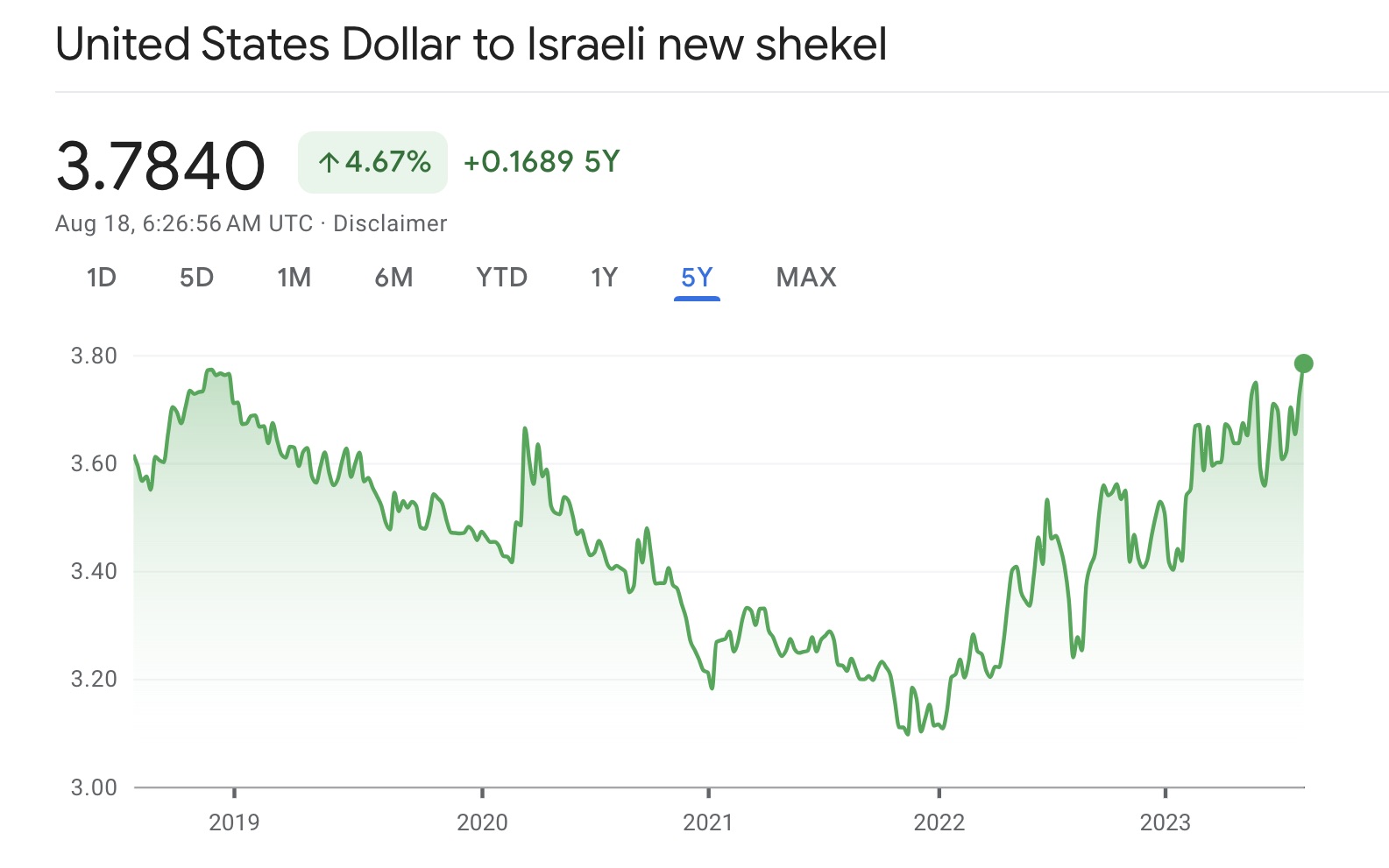 The exchange rate of the US dollar to the Israeli new shekel has been steadily increasing in recent years, reaching a new high of 3.7840 on August 18, 2023. This depreciation of the shekel is a cause for concern for many Israelis, as it makes imported goods more expensive and reduces the purchasing power of their savings.
There are a number of factors that have contributed to the depreciation of the shekel, including:
The ongoing political instability in Israel, which has made investors hesitant to invest in the Israeli economy.
Reckless budget spending on haredi sector.
The rising cost of living in Israel, which has led to increased demand for foreign currency.
The strong US dollar, which has made it more expensive to buy shekels with US dollars.
The depreciation of the shekel has been particularly pronounced since the election of Benjamin Netanyahu as Prime Minister in 2023. Netanyahu has been accused of pursuing policies that have benefited the wealthy at the expense of the poor, and his judicial overhaul has been seen as a threat to democracy.
The depreciation of the shekel is likely to have a number of negative consequences for the Israeli economy. It will make it more expensive for businesses to import goods and services, which could lead to higher prices for consumers. It could also lead to job losses, as businesses are forced to cut costs.
The depreciation of the shekel is also likely to discourage foreign investment in Israel. Investors are less likely to invest in a country where their money is losing value. This could make it more difficult for Israel to finance its economic growth.
The depreciation of the shekel is a serious problem for the Israeli economy. It is a sign of the deep political and economic challenges that the country is facing. If the situation does not improve, it could have a devastating impact on the lives of ordinary Israelis.